After downloading the AHCI driver from AMD's website, running the setup file will not install the AHCI driver.
I have tested this with Windows 7 Home Premium 64-bit on an ASUS M4A785TD-V EVO Motherboard featuring the AMD 785G Chipset with SB750 South Bridge.
This bug may also be present on other AMD chipset based motherboards and / or not exclusive only to Asus.
The AMD AHCI driver does slightly improve disk performance and can be installed by manually updating the standard Microsoft AHCI driver in Windows 7.
Below is a screenshot showing the Microsoft AHCI driver, notice there are a number of ATA Channels.
Device Manager in Windows 7 Home Premium 64-bit
First download the AHCI driver
http://game.amd.com/us-en/drivers_catalyst.aspx?driver=Integrated/vista32-chipset
Run the setup file, this will automatically extract the files to your hard disk.
Go to Device Manager.
Right click on the 'Standard AHCI 1.0 Serial ATA Controller'

Then click on 'Update Driver Software'
Click on 'Browse my computer for driver software'
Click on the 'Browse' button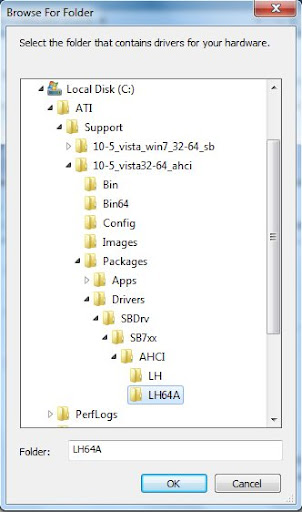 Navigate to ATI/Support/10-5_vista32-64_ahci/Packages/Drivers/SBDrv/SB7xx/AHCI/LH64A
Note: 64-bit Windows 7 and Vista = LH64A / 32-bit Windows 7 and Vista = LH
Click on 'OK' followed by 'Next'.
The driver will now be installed, close the sucessfully installed dialogue.
Windows will prompt for a restart. Once back in Windows, it may scan for new devices and ask for an additional restart.
After which 'Device Manager' should now display an entry labelled 'AMD SATA Controller'
Notice the 'AMD SATA Controller' in this screenshot and not the 'Standard AHCI 1.0 Serial ATA Controller' as can be seen in the very first screenshot.
15/07/2010: Windows Vista 64-bit does not suffer from the same bug. Driver version tested = 10.6